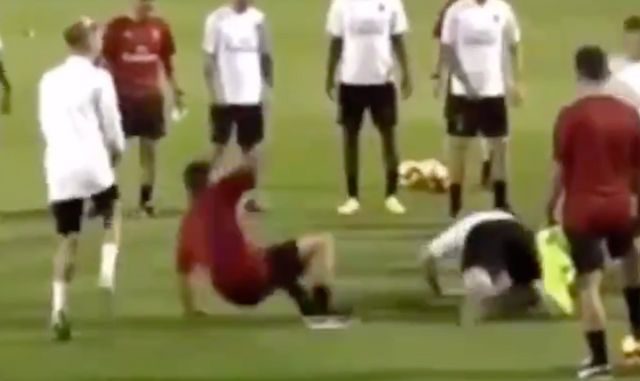 Milan are continuing their preparations for the Supercoppa clash with Juventus in Jeddah, and it appears as though there is a positive atmosphere in the camp.
As seen in the video below, Gonzalo Higuain wasn't holding back as he takes out Gennaro Gattuso from behind, but the Milan coach took it well and was giving as good as he got as he joined in with his players.
SEE MORE: AC Milan transfer news: How much Piatek will cost, talks over €10m exit resume this week
It comes amid intense speculation over Higuain's future at the club, with BBC Sport noting that Gattuso himself all-but conceded on Saturday that the 31-year-old wants to leave as he continues to be linked with a move to Chelsea this month.
Time will tell if an exit materialises, but based on the rapport between the two here and with a significant game ahead on Wednesday against Juve, it doesn't look as though the rumours are distracting Higuain or the squad.
The priority for now will be to return home with the first piece of silverware of the season before the Argentine ace's future is likely to be sorted out later this week with Gianluca Di Marzio suggesting that Genoa's Krzysztof Piatek is being eyed as the ideal replacement.
Clima molto disteso nel consueto torello pre-allenamento. Sorrisi, scherzi e un "fallaccio" di #Higuain su… #Gattuso.

E quando il Mister subisce un tunnel… ?⤵️#Milan #Jeddah #Supercoppa #JuventusMilan pic.twitter.com/Zkh10trLtK

— Tomaso Palli (@TomasoPalli) January 14, 2019