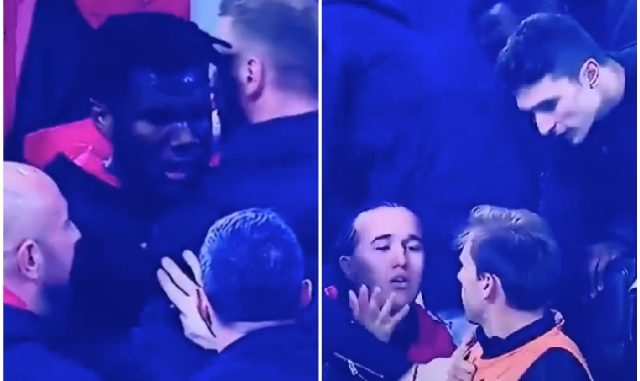 Gennaro Gattuso conceded that it felt like a 'double defeat' for Milan after Lucas Biglia and Franck Kessie were caught in a heated row on the bench during the loss to Inter.
As seen in the video below, Kessie appeared infuriated with Biglia after being replaced and taking his seat on the bench as the Rossoneri fell to a 3-2 defeat in the Derby della Madonnina on Sunday night.
SEE MORE: Video: Tiemoue Bakayoko bags first Milan goal with brilliant header vs Inter
Franck kessie vs Lucas Biglia ?#Acmilan #Intermilan #SerieA pic.twitter.com/qzkdV1uyla

— Koko Eryansyah (@Koko_Eryansyah) March 18, 2019
The disappointment from the performance and result would have been difficult enough for Gattuso to deal with, but seeing two of his own players involved a row during the game won't have helped matters.
As noted by Sky Sport Italia journalist Gianluca Di Marzio, it was suggested that Kessie was already angry having been replaced, and that was exacerbated when Biglia is said to have asked him to respect the change and Patrick Cutrone, who came on in his place.
That in turn sparked the angry reaction from Kessie seen above, and naturally, it didn't take long for the topic to become a talking point in the post-match interviews as both players addressed the situation, while Gattuso expressed his disappointment over the matter.
Looks like there's peace now. pic.twitter.com/fNmXGFCen4

— Milan Eye (@MilanEye) March 17, 2019
"The defeat that hurts me the most was Kessie and seeing what happened on the bench. That is something I can't accept," Gattuso told Sky after the game, as per MilanNews.it.
"There has to be respect for everyone in the dressing room and it was just unacceptable. I am the coach, I have to take care of discipline in the dressing room and the players know how much I care about that.
"You can criticise my tactics, but I built my career on respect, group ethics, representing the shirt and honouring teammates. This means everything to me and that is why it is a double defeat. I will have my say over the next few days."
Meanwhile, Kessie and Biglia both did their best to alleviate any tension and concern over the situation, as they apologised publicly and took responsibility for their actions.
Whether or not it's enough to ease Gattuso's disappointment remains to be seen, but it was important to hear them put the altercation to bed immediately and show a united front as there are undoubtedly more important factors at play after the international break after this setback in the battle for a top-four finish.
"I was frustrated coming off and really wanted to do more. I took it out on Lucas and it was a mistake, I apologised afterwards," Kessie said. "He is older than me and I should learn from him. I'm sorry."
Biglia added: "We above all feel bad for this embarrassing situation, I feel ashamed of it and apologised to the lads and coach in person. It was not what we wanted, we embarrassed the club we represent and it won't happen again."
Biglia chiede scusa, ma ribadisce il concetto già espresso a Kessiè: "Ho sbagliato il momento di dirglielo, il pensiero è stato di fargli capire che il compagno che entrava aveva bisogno anche del suo sostegno" pic.twitter.com/2EjI2cAXai

— Goal Italia (@GoalItalia) March 18, 2019
Gattuso avvisa Biglia e Kessie: "Per fortuna non li ho visti, altrimenti mi sarei buttato nella mischia anche io" ???#MilanInter pic.twitter.com/PP0WqZgtVD

— Eurosport IT (@Eurosport_IT) March 18, 2019