While we await the arrival of Marco Giampaolo as coach this week, there is another important deadline that is imminent for Milan.
As noted by La Gazzetta dello Sport, the end of the financial year is fast approaching on June 30, and it's long been suggested that in order to help balance the books in another loss-making year, a sacrifice will have to be made involving a key figure in the senior squad.
SEE MORE: Midfield targets an encouraging sign to fit Giampaolo's plan to give AC Milan an identity
The same names have circulated for months, and ultimately it would seem as though the key decisions revolve around Gianluigi Donnarumma and Suso in particular.
Given their ability to raise the most significant capital gain, with MilanNews.it noting, via the paper edition of Tuttosport, that Donnarumma could fetch a minimum of €60m while Suso has a €40m release clause in his contract, it's understandable as to why their names continue to crop up.
So who should Milan sacrifice?
The controversy and anger created in June 2017 seems like a distant memory. Agent Mino Raiola has spoken less of Donnarumma, and the 20-year-old has arguably just had his most consistent and mature campaign yet.
With his entire career still ahead of him and given he's widely regarded as one of the future symbols of this side given his ability to be a mainstay for years to come, it would be a huge disappointment if he were to be sold this summer.
His quality speaks for itself on the pitch with his countless game-defining saves, and while he still has work to do on his distribution and concentration to cut out mistakes, he has improved in those areas.
Nevertheless, €60m+ is a lot of money and as noted by MilanNews above, the likes of Man Utd and Paris Saint-Germain are said to be interested and so it wouldn't appear to be a particularly complicated solution with Pepe Reina and Alessandro Plizzari on stand-by to step in.
Despite that, while he's not indispensable and put in the same bracket as captain Alessio Romagnoli, Donnarumma is one of the top shot-stoppers in Europe and it would be a huge shame to see him sold.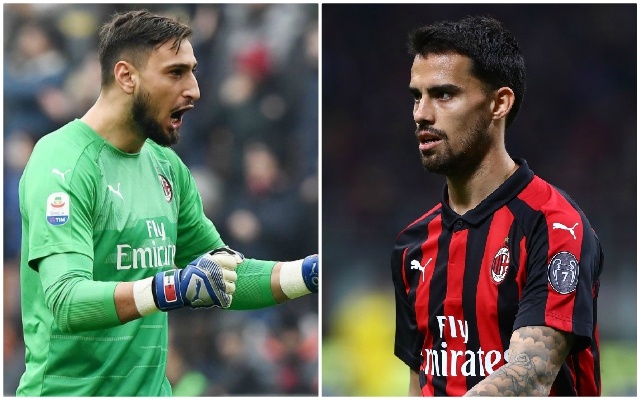 In contrast, there are surely question marks over Suso moving forward, both in terms of his previous form and how he fits into Giampaolo's plans.
There is no doubt that the Spaniard has been a key creative hub for Milan in recent seasons, and his quality on the right wing, be it producing for others or scoring important goals, has been fundamental to Milan's progress to this point.
However, he has managed 23 goals and 35 assists in 136 appearances for Milan, and given how crucial the 25-year-old's role is for the Rossoneri, coupled with how much of the ball he has seen in that time, those are arguably underwhelming statistics.
Again, there is no doubt Suso is a quality individual. However, from his inconsistency to his disappearances in the latter stages of seasons and his lack of defensive awareness, could Milan do better and use that €40m wisely to strengthen the squad?
There is of course the question of how he fits into a 4-3-1-2 to deal with as well, as he could struggle in the trequartista role which Lucas Paqueta has been heavily tipped to occupy, while a second-striker or mezzala role surely don't suit his characteristics.
MilanNews, via Sky Sport Italia, have most recently suggested Milan intend to keep Suso, and so that would perhaps point the finger elsewhere as to where the sacrifice will be made before June 30.
However, rather than deprive ourselves of a key figure elsewhere in the squad, it would surely seem like a smart move to consider offloading Suso this summer to help balance the books and perhaps even use part of the fee to bring in players who offer more guarantees in fitting into Giampaolo's plans.