Marco Giampaolo will have a busy few weeks ahead of him after he's presented as the new Milan coach on Monday, with key decisions to be made across the squad.
As noted by MilanNews.it, the 51-year-old will be presented to the media on Monday evening, and once all the formalities are out the way, he'll be eager to get to work.
SEE MORE: Two AC Milan stars primed for big season under Giampaolo
Potential signings, possible exits and implementing his preferred system and style of play will be the priorities from next week, but there are also decisions to be made on those already at his disposal and who will take up key roles in his starting XI.
One of those crucial positions is right-back, as Andrea Conti and Davide Calabria prepare to battle it out under a new coach to earn a starting place when the new season gets underway.
Firstly, it's important to note that competition for places is a good thing, and it will serve Milan well to have two quality individuals pushing each other both in training and on the pitch.
However, it's also hoped that the pair can avoid further injury setbacks over the next 10 months to ensure that they can prove their worth, as they have both been plagued by issues on a consistent basis in recent years.
Who should be in the starting XI for new season?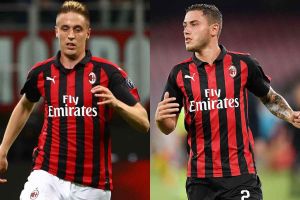 Defensively, there is perhaps an argument to suggest that Calabria should get the nod, as although the 22-year-old is still guilty of lapses in concentration, there is more solidity and tenacity about his play in the defensive third to suggest that he can provide more protection on that flank.
It's perhaps unfair to judge Conti too much given his lack of regular playing time over the last two seasons, but he did look shaky at times and was caught out as he struggled with the pace of the game and with his general defensive awareness to assess dangerous situations.
In turn, Calabria will arguably be favoured by Giampaolo initially, as ultimately the Italian tactician will be looking for his backline to provide a solid foundation on which his midfield and attack can go out and win games.
However, Conti's argument comes into play in terms of what he offers going forward, as in just 20 appearances for Milan, he has three assists to his name.
That's largely down to his ability and energy to get up and down the right flank, coupled with the quality on his delivery and with two men to potentially target in the box next season if Giampaolo switches to a 4-3-1-2 system, he could flourish in that aspect of the game.
Further, with a three-man midfield and No.10, Milan will need width, although judging from Giampaolo's track record, he doesn't usually expect his full-backs to bomb forward as much as they push on in a more methodical fashion while also being tactically switched on to offer balance if the attack is focused down the opposite flank to tuck inside and provide cover.
As for Calabria, he has two goals and five assists in 85 senior appearances for Milan, and so he is certainly no slouch in that department either as he can also produce quality deliveries into the box. It's refreshing in itself that after years of Ignazio Abate struggling in that area, we now have two right-backs more than capable of adding a different dynamic to our attacking play.
Naturally though, as reflected in the signing of Theo Hernandez who will be expected to start on the left side of the defence, whether it's Calabria or Conti, they will need to be compact, switched on and accurate in the build-up of play, and those factors will be decisive in who Giampaolo goes for.