Milan face Inter in the Derby della Madonnina on Saturday night and the starting line-up put out by Marco Giampaolo could be decisive.
It's been an unconvincing start to the Serie A campaign from the Rossoneri, as although we've responded in terms of results after the Udinese defeat, it hasn't been particularly impressive.
Close wins over Brescia and Verona have since followed, and while we've only conceded one goal in our first three outings to reiterate that the defence is sound, our attacking play will need to improve especially as the opposition gets better.
Inter will undoubtedly pose the biggest challenge of the season to date, and the first crucial thing Giampaolo must get right is his selections for the starting XI.
Straight swap for Calabria
Davide Calabria misses out due to suspension this weekend, and Giampaolo has already confirmed that Andrea Conti will start in his place, as noted by MilanNews.
That is a relief in itself as there was perhaps a slight concern that the Italian tactician would go with Fabio Borini given his versatility and the fact that he has played significantly more minutes than Conti over the last two seasons, particularly given the latter's injury nightmare.
Fortunately though, it will be a straight swap at right back as the Milan ace will get the chance to showcase his quality and not only offer defensive solidity, but also the energy and quality on the ball to pose a threat down the right flank and to stretch the Inter defence by offering width.
Bennacer, Rebic must get nod
As per La Gazzetta dello Sport in their graphic below, it has been suggested that Lucas Biglia and Lucas Paqueta will start ahead of Ismael Bennacer and Ante Rebic.
To reinforce that suggestion, MilanNews have gone with the same system and personnel, which would give the impression that this is ultimately how the Rossoneri will line up on Saturday night.
Biglia offers experience, quality and a calmness in front of the defence, and although Paqueta hasn't been at his best so far this season, his flair, creativity and goal threat will undoubtedly ensure he has a big role to play moving forward.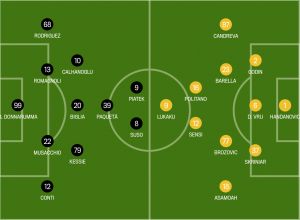 Image courtesy of La Gazzetta dello Sport.
However, the likelihood is that this will be a high-tempo game played at a frantic pace at times while we'll also need to guard against the counter-attack, and the minimum expectation from both coaches and sets of supporters will be to see the players work hard and win the battle in terms of effort and intensity.
With that in mind, Bennacer and Rebic are arguably perfectly made for such a showdown as they possess all the attributes you'd want on the pitch in such a situation. The Milan duo play with intensity, urgency and a proactive approach rather than a reactive one, and they could be pivotal to us winning the battle in and around the midfield.
Lose that, and we could lose the game. Inter have top class and dynamic options in that department, and if we get overrun by them over the course of the game, it could lead to trouble.
Further, Rebic offers a little more versatility too in that Giampaolo would be able to tweak the set up slightly if a 4-3-1-2 isn't working and go with a 4-3-3. Leave him on the bench, and that takes that option out of his playbook.
In turn, there is a sense that Giampaolo would be making a mistake by leaving Bennacer and Rebic out in particular, but if it's the above that turns out to be the starting XI that he opts for, it's of course hoped that it gives him what he believes is necessary to win the game.