After confirming Zlatan Ibrahimovic's return on Friday, Milan boss Stefano Pioli now has a decision to make on how he fits into his starting XI.
The 38-year-old will look to displace Krzysztof Piatek in the side to lead the line up front, and given the Polish international's struggles so far this season, he hasn't made a particularly strong case to keep his place.
Z. 🔙🔴⚫#IZBACK pic.twitter.com/TbibEQ0oYB

— AC Milan (@acmilan) December 27, 2019
Piatek has managed just four goals in 17 appearances, and that has been a contributing factor in us managing just 16 goals in 17 Serie A games thus far, with just four other sides scoring less.
In turn, the addition of an individual such as Ibrahimovic with the quality, experience and mentality that he can bring on and off the pitch is crucial, and it's a signing that Piatek must welcome to help him improve by learning from his new teammate and relishing the battle to keep his place in the XI.
Piatek likely to drop out…
That said, the expectation is that Ibrahimovic will get the nod when he's considered fit enough to feature with Piatek's lack of goals in mind, and so it's about finding the right balance around him to ensure that he has the service to flourish.
This isn't the same Zlatan as we had leading us to our last Scudetto in 2011. While he can still be physical, show flair and produce moments of pure magic, he will no doubt find it challenging at this stage of his career and so it's imperative those around him step up to the next level and start producing consistently.
Piatek has undoubtedly struggled due to the lack of quality around him, and unless the likes of Suso, Hakan Calhanoglu and Lucas Paqueta improve and provide a more decisive impact, merely swapping the focal point of our attack may not make any real difference at all.
At 38 years of age, Ibrahimovic is a short-term fix. So if Pioli can find a way for him to co-exist with Piatek, it could be the smart long-term solution as we need to get the former Genoa man back firing.
Balance in attack…
With Theo Hernandez providing a real threat down the left flank, coupled with the creative quality and intelligence of Giacomo Bonaventura from midfield, Pioli has two key options to support Ibrahimovic and provide service.
Rade Krunic arguably offers more in that area than Franck Kessie and has been unfortunate to drop out of the side, and so along with Lucas Paqueta, they could have a case to get the nod in midfield to offer a different dynamic and more technical quality.
Ibrahimovic has never needed pace to be effective as that simply isn't a part of his game, and so that needs to be placed around him to provide options to create for others and rack up assists, while also finding more space in the final third with defences stretched to cope with his physical presence through the middle and movement from others out wide.
With that in mind, his arrival could be a key moment for Rafael Leao, as he remains the only real option on the flanks to give us pace and a direct threat, and that in tandem with Ibrahimovic's quality on the ball and movement in the box could make him a key figure in the starting XI.
Meanwhile, Suso has struggled badly so far this season as he's managed just one goal and two assists in 15 outings. However, perhaps with a genuine target man in the box for him to pick out, he could also benefit from Ibrahimovic's arrival even though it could easily be argued his position in the side should be under threat.
That said, if he isn't having a big enough influence, it's easy to see Ibrahimovic making him aware of it and it's hoped that's where his influence off the pitch will come into play to help those around him take their respective game to the next level.
If he can have a similar impact on the likes of Paqueta and Kessie, that's where bringing him back even at this late stage of his career could make it a hugely successful idea as it's hoped that he can give us a kick-start and put us back on the right track after a stuttering first half to the campaign.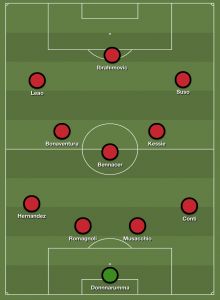 Alternatively…
As noted above, at 38, Ibrahimovic is not a long-term fix. In turn, it would be ideal if Pioli can find a way to pair him with Piatek to help him rediscover his form and get the best out of him again.
With that in mind, whether it's a 4-3-1-2 or similar variant with a playmaker playing in behind Ibrahimovic and Piatek, ideally a fully-fit and in-form Bonaventura, with Hernandez and Conti providing width and an attacking threat down the flanks, it could be another solution worth looking at.
Time will tell if further January signings are made and how that influences Pioli's thinking moving forward. However, Ibrahimovic's arrival alone gives him another vital option and it will be interesting to see how he uses him next month.
Donna
Conti-Muscha-Romagnlli-Theo
Krunic-Benncer-Jack
Suso-Ibra-Leao

— Mourinho_IN (@Samirmohammad72) December 28, 2019
Donnarumma – Todibo / Demiral , Caldara , Romagnoli – Conti , Paqueta , Bennacer , Bonaventura , Theo – Piatek / Leao , Ibrahimovic . I would add to that team a new midfielder who can play both as a regista and mezzala and winger if possible so the players can rest

— Debbagh Idriss (@IdrissDebbagh) December 28, 2019
I think this is the best lineup for us 4-3-1-2 and im not just saying that because of our great history with it. Bit im saying this because simply WE DONT HAVE WINGERS. we have playmakers and midfielder and attacking LB RB so this one makes the most sense. Just my opinion pic.twitter.com/5lMmSYWIXc

— Moat Az (@Moat_Az) December 29, 2019
Straight swap if the 433 sticks…Pair with Leao if moving to 2 strikers.
Best 11 atm: Donnarumma; CONTI, Musacchio, Romagnoli, Hernandez; Bennacer, Kessie; Leao, Jack, Lucas; Ibra.
If they moved to a 3 man line, then swap at Kessie w/ a cb and move Leao up top.

— Joseph Baccellieri (@joebaccellieri) December 28, 2019
Suso x Hakan x Kessie out.

3-4-3 or 4-3-1-2

No Suso . More Rebic

— Robinson🔪 (@rawbeenseen) December 28, 2019
Donna
Conti – caldara – Romagnoli – Theo
Krunic – Bennacer – Bonaventura
Paqueta
Ibrahimovic – Piatek

Out.
Suso
Kessie
Biglia#IZBACK

— don.jul (@don_julR) December 29, 2019