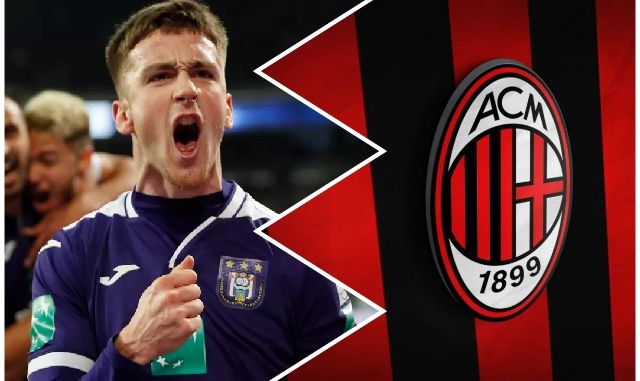 Milan have reportedly moved swiftly to tie up a new signing ahead of the transfer deadline, with Alexis Saelemaekers set to join on Friday.
As reported by Sky Sport Italia, the 20-year-old will join on loan with an option to buy, which could become obligatory depending on certain conditions being met, and it's suggested that he could cost around €6.5m.
After clearing the decks with Ricardo Rodriguez, Suso and Krzysztof Piatek leaving this week, coupled with the exits of Fabio Borini, Mattia Caldara and Pepe Reina earlier this month, the Milan hierarchy have also seemingly been prudent with our incomings.
Given his lack of experience at the top level, this is a relatively low-risk gamble on the Belgian youngster. That said, Stefano Pioli needed to fill the void left by those who have exited, and so Saelemaekers could prove to be a useful addition to the squad in the coming months and a signing with real upside.
Who is Alexis Saelemakers?
The young Belgian has come through the ranks at Anderlecht, playing for the club from youth level for the U17s, U19s through to the senior squad.
His most natural position is said to be on the right side of midfield, but he has shown an ability to be versatile which allows him to be deployed in a more advanced role as well as a full-back.
In 19 appearances for Anderlecht so far this season, he's bagged two goals and four assists. Eight of his league appearances have seen him play on the right, four of his outings on the left and four games in an advanced role. Last season, he was regularly used as a right-back, and so that versatility could be handy.
In 64 games for the senior Anderlecht side, he's scored two goals and provided 11 assists, while he's also been capped at U19 and U21 level for Belgium.
Is he a good fit?
After Suso's exit, Milan needed to bring in a reinforcement to play on the right side and perhaps simply offer a back-up option to Samu Castillejo who has impressed since the switch to a 4-4-2.
In turn, Saelemaekers ticks the right boxes in that regard, and given his ability to play either in a 4-3-3 or 4-4-2, on paper it looks as though Milan have signed a player who fits the system and addresses a particular role in Pioli's plans, and so there is sense behind the move.
Given the low risk nature of the deal in terms of it being an initial loan with the likelihood of turning permanent, it's an astute move if the Belgian ace turns out to be a player with real potential who can step up and deliver at a higher level.
There is scepticism for now as there are various factors which could see him either emerge as a real hit and earn a permanent switch, or he may well be bitterly underwhelming and question marks will be raised over the decision to bring him in.
That said, it's a much-needed addition before the deadline and so it's a case of finding out just how high is ceiling is and whether or not he shows enough to suggest that he's good enough for Milan. These kind of moves can sometimes bring the best out of players, so judgements should be reserved for now.
🚨 Info about our new player |

• Name: Alexis Saelemaekers
• Age: 20 years (1999)
• Nationality: Belgium🇧🇪
• Height: 1.80 m
• Position: RW / RB

💰 Reported price: €6M

📊 – His stats with Anderlecht so far this season:

👕 16 games
⚽️ 2 goals
🎯 2 assist pic.twitter.com/YwuLokkfjX

— Ⅲ (@Semprista) January 30, 2020
What's his potential like?
As per La Gazzetta dello Sport, his physique and technical quality have been praised, while his versatility is an obvious strength. The video above suggests that he likes to get forward, can take on his man and has a raw end product which could help add a new dynamic to the Milan XI.
Sky Sport Italia laud the same attributes, notably his speed and dribbling as well as his ability to use both feet to create and be a goal threat, while that key word versatility pops up again given he can be deployed in various roles.
It seems as though it's his work in the defensive phase of the game which will determine whether or not he's a success, as GdS add that his tactical discipline will be tested and he'll need to make a jump in terms of his intensity off the ball, particularly in a 4-4-2, to show that he can adapt to Serie A.
There certainly seems to be something there to work with as far as Milan and Pioli are concerned, but ultimately it feels as though he may well just be considered an alternative option to Castillejo and so his playing time may well be limited.
With the tweets below in mind, a general consensus is emerging from those who are more familiar with Saelemaekers. Don't expect a game-changing addition to the squad, but instead a useful piece added to the puzzle to fit a system we've now settled into as more of a depth option with a lot of possible upside.
In the short-term, it's hoped that he can make an impact when involved and show enough positive signs to suggest that he's a wise investment. Looking at the bigger picture, Milan will be hoping that he grabs such a big opportunity with both hands and makes that step up to the next level to prove that we've got a top prospect.
Too many people hyping Saelemaekers already without seen him play. He's literally nothing special, anyone who watches the Belgian league is laughing at us buying him.
I can only hope he proves everyone wrong and develops a lot. Worth a shot tho as we needed a Samu back up.

— Grego 🇧🇪 (@Grego_1899) January 30, 2020
Sheesh, that moved fast. All major Belgian outlets agreed Alexis Saelemaekers did not want to leave for a top league just yet only yesterday. Now he's off to Milan, apparently https://t.co/pBoFyJKrzE

— Gianni Verschueren (@ReverschPass) January 30, 2020
(Thread)