Speculation suggests that Milan are stepping up their attempt to sign Sandro Tonali this summer, and landing the talented midfielder would be a major coup.
As noted by Calciomercato, the Rossoneri have joined Juventus and Inter in showing an interest in the 19-year-old, as they are said to have contacted both Brescia and the starlet's agent to begin talks.
It remains to be seen if the situation progresses and Milan are able to land his signature, although the report above adds that he is valued at €50m by Brescia chief Massimo Cellino, and so time will tell if that's already an obstacle that can't be overcome.
Nevertheless, it's positive to hear Milan are pursuing Tonali at least, while he has made no secret of the fact that he was a childhood Milan fan.
"My father is a Milanista, while my mother and my uncle are Interisti. As a child, I went crazy for the Milan colours and my idol was Gattuso," he told reporters back in May last year.
"I was at San Siro when Kaka scored against Lazio, and I also saw the goal of Seedorf against Chievo."
With so much at stake at this point in terms of taking the best step in his career, it seems unlikely the above will be a factor when he considers his future. That said, it must surely carry some weight and could influence his decision if Milan can convince him he will be a central part of the club's plans to get back to the top.
So, that's all the sentimental stuff out the way. What about Tonali, the player?
Leading figure for Brescia
Given his appearance, his position on the pitch and the fact that he's come through the ranks at Brescia, it has led to obvious but rather lazy comparisons to Andrea Pirlo. The teenager has a long way to go to reach that level and to achieve what the Italian legend did during his illustrious career, but the early signs are promising.
Despite largely being deployed in a deep-lying midfield role, Tonali has scored six goals and provided 14 assists in 77 appearances at senior level for Brescia, playing a key part in their promotion from Serie B last season.
Importantly, he's made the step up in level in Serie A too this year, and while there is evidently much more to come from him, it has been a positive start to life in the top flight.
Key attributes, ideal fit next to Bennacer
Tonali's vision, passing ability and range as well as his quality in evading pressure and finding space between the lines are all Pirlo-like attributes, and that's why there have been such comparisons.
However, he also adds tenacity and physicality on and off the ball, while he can break forward with a turn of pace and get up the pitch to be a threat too. If there's room for improvement, it's perhaps increasing his tallies in terms of assists and goals, but he has an all-round presence and can contribute in both phases of the game.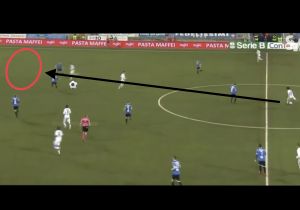 As seen in the two images above, his ability to pick his head up, spot the runs in behind the defence and take multiple defensive players out of the game to find a teammate has led to some impressive assists.
That's what Pirlo was so great at, and Tonali shares that raw talent which can still be developed. Ismael Bennacer's at his best when he's playing sharp, short vertical passes and picking up the tempo of the game, and so putting Tonali next to him in either a two-man deep midfield pivot or as part of a trio would give us a different dynamic and balance to our play with the pair working off each other.
Both Tonali and Bennacer can defend and aren't afraid to get stuck into a battle. Add the technical quality and skill on the ball and the pair could be a dream partnership to finally give us a base on which to build and dictate games while having energy and grit to shore things up too.
Whether it's Franck Kessie, Lucas Paqueta or Hakan Calhanoglu, no one else in the squad has offered that quality next to Bennacer in midfield on a consistent basis. Rade Krunic perhaps offered that dynamic with limited influence, and so the void is there for Tonali to fill.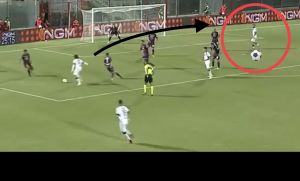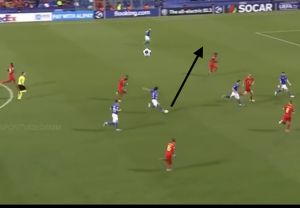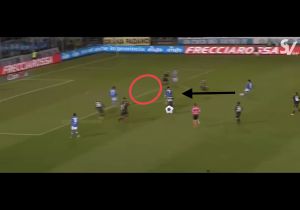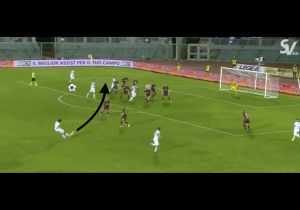 While Bennacer still has work to do on his end product when he does break forward, the images above show how Tonali can be equally as impactful when he gets into the final third.
On all four occasions he set up a teammate for a goal, picking out the right pass to find a breakthrough with great vision and execution.
With Bennacer having the mobility and engine to get back and cover for him if necessary, they have the ability to enjoy a balanced understanding in the middle of the pitch in and out of possession. While the Algerian international goes short, Tonali could go long. If one makes a penetrative run forward, the other can drop back and fill that void. They have shown intelligence and positional awareness too while Bennacer arguably could be more effective as a mezzala rather than a regista.
Tonali (19) and Bennacer (22) both have their entire careers ahead of them, will command relatively low wages at this stage and have the ability to be pillars of this Milan side in the long-term future.
It's one thing being linked with Tonali and another entirely actually signing him. With that in mind, it's not worth getting too excited just yet, but the analysis above suggests that it would be an incredibly smart signing from Milan if they can get a deal done.