From his loan spell looking like a disaster in its early months to becoming a decisive figure for Milan, Ante Rebic has had quite the turnaround this season.
By mid-January, the 26-year-old was still waiting to register either his first Serie A goal or assist, and as noted by La Gazzetta dello Sport in December, there was even talk of his loan stint with us being cut short.
From being deployed as a second striker to playing on both the left and right wing in his first seven league outings, there was no consistency for Rebic to settle into the side and find his feet. Coupled with a lack of confidence, it was concerning for the Croatian international.
Fortunately, things eventually clicked into place against Udinese on January 19 as he went on to score six goals in seven Serie A games while also bagging a goal and assist in two Coppa Italia outings.
This all happened around the same time coach Stefano Pioli abandoned the 4-3-3 system and went with a 4-4-2/4-2-3-1, a move which was rewarded with an upturn in form as a number of key individuals looked more comfortable and effective in their new roles.
Rebic was undoubtedly a big winner in this transition, as for six of the goals he scored during that run he was deployed on the left wing with a licence to cut inside and support Zlatan Ibrahimovic up top by making late runs into the box.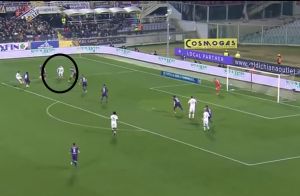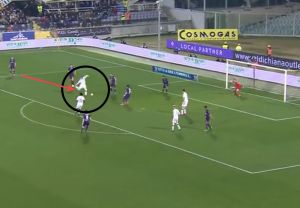 The two images above show his positioning in the lead up to his goal against Fiorentina, his last effort which found the back of the net prior to the suspension of the campaign due to the coronavirus crisis.
Rebic starts out wide on the left as the cross is delivered, but he moves into the box and is on hand to take full advantage of Martin Caceres' error. It's in that zone and with his ability to make timely runs into space to get on the end of the cross or a second ball where Rebic has been so decisive.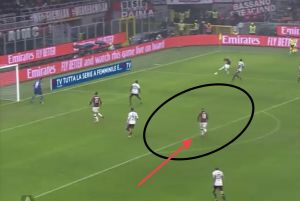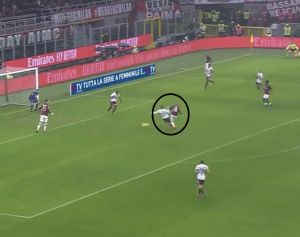 Here he is again vs Torino. After ghosting in from the left flank he finds acres of space on the edge of the box and makes that late run in to get onto the cross first and find the bottom corner.
With Ibrahimovic occupying the two centre-halves, it's crucial Milan take advantage of that when crosses are delivered into the box as there will be space for others to attack to chip in with goals.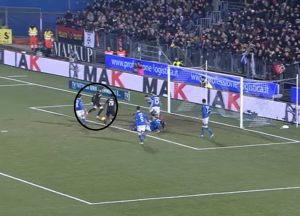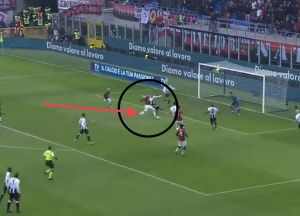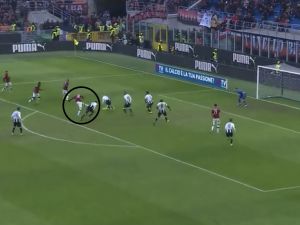 Each time Rebic finds the back of the net in the games above against Brescia and Udinese respectively, it's largely in the same area of the box where he is able to pounce and get goals.
This is surely an ability and habit that the teams in question picked up on prior to their encounters with Milan, but the Croatian's ability to 'be in the right place at the right time' is arguably more than just luck and a genuine instinct and ability to get goals.
It's hoped that he can build on this when the season resumes, and importantly, continues to add to his game and shows us different ways in which he can be effective on and off the ball.
This habit of scoring crucial goals though has helped him turn his loan spell with Milan around already. Rebic has taken full advantage of the tactical changes made by Pioli and his belief in him to play out wide on the left while getting inside to act as a second striker to even keep Rafael Leao out of the XI.
Having started to show his worth to make his case as to why Milan should perhaps make his move permanent, Rebic has put down the foundations and hopefully we'll see much more of this quality in the coming months.