The stage was seemingly set for Rafael Leao in the second half against Juventus, but he couldn't come up with the answers needed by Milan to find a breakthrough.
After Ante Rebic's red card after just 17 minutes and with the Portuguese starlet the only other real option up front, it seemed inevitable that he would be introduced by Stefano Pioli at some point.
His moment came in the 52nd minute, but what followed was further ammunition for his detractors, admittedly including myself, to criticise him and question him.
It was the smart move from Pioli and it's not difficult to work out what he wanted from the 21-year-old. We all expected him to set the tempo up top, use his youth, pace, directness and physicality to trouble the Juventus backline and stretch them to allow others to profit from space opening up.
Instead, we got what we've got all too often from Leao this season, as that's now just two goals and two assists in 23 appearances.
Even Pioli conceded after the game that he, like the rest of us, expected more from the youngster.
"Definitely yes [could have made a bigger impact], because he has the characteristics to make the most of space and counters. He must work with more intensity," Pioli told Milan TV after the game, as per MilanNews.
The perfect example of the issue with Leao is shown in the two images below.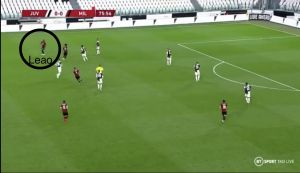 Franck Kessie brilliantly busted a gut to push forward and break the lines to try and open up an opportunity for us, and as he advanced towards the Juventus back four, he had Leao ahead of him.
As seen in the first image, it's clear that there were two obvious routes he could take to either use his pace to get in behind and create a goalscoring opportunity for himself, or at the very least to drag one of Leonardo Bonucci or Matthijs de Ligt out wide with him if he ran down the channel to give Kessie an opening.
Leao did neither. Instead he checked back, looped back round Kessie to collect the ball and played off a simple pass which ultimately ended the entire move.
Whether that's a lack of desire, understanding of the situation or perhaps even both, it simply doesn't make sense and the coaching staff will hopefully pick up on that and work with Leao to be more effective in those situations.
That's arguably not even the biggest concern either. On countless occasions even as the new man on the pitch with his fresh legs, he did little work off the ball to close Juve down or track back. At times, Pioli could be seen on the sidelines urging him to come towards the ball but instead Leao seemed content with jogging around as youngster Lorenzo Colombo did more running than him in his eight minutes on the pitch.
Leao is a talented young player. He has great potential and clear strengths which could make him a nightmare for defenders. He had the chance to make a big impact on Friday and stamp his mark on the side to show his quality. While it may be unfair to single him out for criticism, he ultimately failed to deliver and it will only raise further question marks.
It could be argued that he perhaps thinks he's better than he actually is at this stage of his career and that contributes to the lack of effort off the ball and the lax attitude that he seems to portray. He's not yet good enough to have that approach and he has a lot to prove for a 21-year-old at a club like Milan, and it's surely a concern that Pioli is not only leaving him out of a Zlatan Ibrahimovic-less side, but he's openly pointing out how he has disappointed and the issue isn't being rectified.