Milan secured a 2-0 win over Roma on Sunday in a pivotal clash in our ongoing battle to try and secure Europa League qualification for next season.
With Atalanta continuing to impress and more importantly win, fourth place in the Serie A table is arguably beyond our reach at this point and so hopes of Champions League qualification are slim.
Nevertheless, there is still plenty to play for as we look to catch Roma and Napoli, while simultaneously trying to keep the likes of Parma and Verona at bay behind us.
With that in mind, securing all three points at the weekend was vital and we did so with some important tactical points as Stefano Pioli has seemingly now settled on what is proving to be a successful 4-2-3-1 system.
High press from front four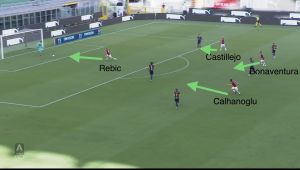 This has been a hallmark of our play off the ball in the last two games as we've looked to try and either win possession back high up the pitch or at the very least put pressure on the opposition to make mistakes and regain the ball after forcing them to go long.
With Ante Rebic playing up front, it has been very effective, although if, or rather when, Zlatan Ibrahimovic comes back into the starting XI, we'll have to alter that strategy accordingly as the 38-year-old can't do the same job.
In the instance above, one example of many similar scenarios, Rebic almost forces a mistake from Antonio Mirante who eventually clears under pressure, but with Calhanoglu, Bonaventura and Castillejo applying the next press on the Roma defence, it leaves their goalkeeper with no option but to go long to give us a better chance of getting the ball back.
With the energy and work rate from that quartet, we've been impressive with that specific plan.
Getting numbers in the box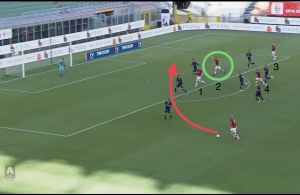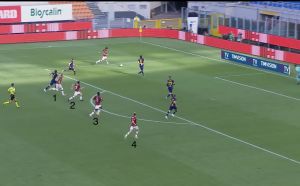 Prior to the restart, Milan had managed to score just 28 goals in 26 league games, which in turn unsurprisingly gave us one of the worst goalscoring records in Serie A.
We've scored six goals in our last two outings and a big reason behind us being more of a threat is that we're finally getting numbers into the box with players actually in positions to score.
As seen in the two examples above, Milan stretch the Roma backline with four players available for the cross, with a pocket of space opening up for Calhanoglu in the first image as he should have scored, while the second image is taken from the build up to Rebic's goal.
Alexis Saelemaekers keeps the move alive after Lucas Paqueta's deep cross, Franck Kessie's initial effort is saved before Rebic eventually forces the ball over the line. Flooding the box when on the attack invariably leads to chances being created rather than leaving our frontman isolated.
'Rebic zone'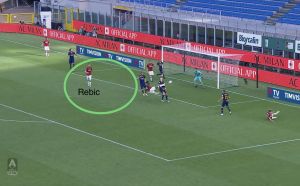 After his latest goal, it's been suggested that Rebic has a habit of being in the 'right place at the right time' as the old adage goes.
That arguably does him an injustice though as there is more to it than good fortune or luck, as his instincts see him pull away from the action and find space in the box to be on hand to find the back of the net.
As seen in the image above, this is the same area in which he's scored a number of goals this season, most notably efforts at Fiorentina and Brescia, and it's becoming somewhat of a hallmark for him as the 'Rebic zone' is proving to be rather productive.
With eight goals in his last nine league games, the 26-year-old is stepping up in a big way for Milan and long may it continue.