While there was a general sense of disappointment after the 2-2 draw with SPAL, Lucas Paqueta's performance was a highlight for Milan as he put in a much-improved display.
There's no doubt that the Brazilian ace has underwhelmed since he joined us last year, and he has even struggled to establish himself in the starting XI under Stefano Pioli this season.
However, after his impressive impact off the bench against Roma at the weekend, he was rewarded with a starting berth in midweek at SPAL and there was a lot to like about his performance.
The statistics show that he had a 87.9 percent accuracy with his passing, had five shots on goal and was generally a threat to SPAL with his dribbling and touches in the final third.
Critics will point to the fact that he ended the game without a goal or an assist, and that is ultimately what he'll be judged on. While that's fair, there are certainly positives to take away from his latest outing.
Finding pockets of space in dangerous areas
As the images below show, Paqueta was able to find space between the lines on Wednesday night, posing a real threat to the SPAL backline with his movement.
On occasion it allowed him to set a teammate free with a probing pass or it opened up space in front of him to take on a shot, and that in itself is a positive development that he's having that level of impact on the game as previously he has struggled to be influential enough.
It perhaps shows a deeper tactical and positional awareness of what Pioli wants to see from him, and it's proving to be effective.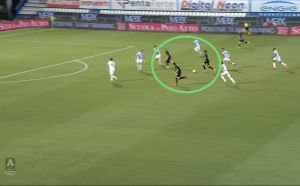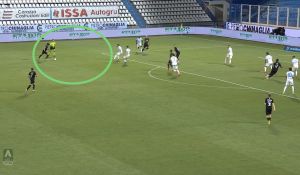 As noted above, Paqueta needs to do more and ultimately that means showing a clinical edge in front of goal. He had chances to add to his goal tally in midweek, but the chances came and went and that will be a major disappointment for him again.
Nevertheless, his ability to create in these areas coupled with his tireless work ethic and ability to add some flair and excitement to the side with his technical quality all point towards him deserving another shot to try and impress against Lazio this weekend.
The image below was taken from the win over Roma, where he drifted out to the left side and found space, with his cross eventually leading to Ante Rebic's goal.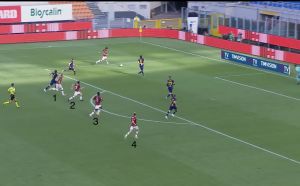 His next task is to be involved in such scenarios more consistently, to make his own chances count and to deliver decisive final passes to register assists, as we may not be so fortunate to get a chance to launch a comeback against Lazio, Juventus and Napoli in the next three games as racking up endless misses will cost us again.
For the 22-year-old though, he'll be growing in confidence after the last two games and it's hoped that he can build on that in the final nine games of the campaign to show enough to suggest that he can still be a success in the coming years in a Milan shirt.