Milan face Juventus on Tuesday night and while we were brilliant collectively against Lazio, we'll need to win particular battles across the pitch in midweek to secure all three points.
There is still uncertainty over our starting line-up at the time of writing, with Hakan Calhanoglu hobbling off against Lazio while Stefano Pioli has decisions to make on who starts up front and who supports the frontman.
Nevertheless, there are clear battles that will be potentially decisive to the outcome of this encounter, and it starts with the coaches and their respective set-ups and style of play. The reigning champions are closing in on another title and their quality is obvious, so we'll have to be at our best and put together another complete 90-minute performance like we did at the weekend to come out on top.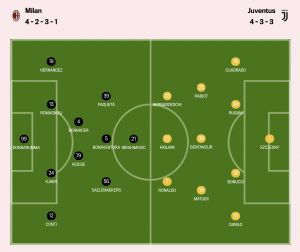 Image courtesy of La Gazzetta dello Sport.
Pioli vs Sarri
From Pioli's 4-2-3-1 to Maurizio Sarri's preferred 4-3-3, it promises to be a fascinating battle of wits between the two wily Italian tacticians as they look to get the upper hand in the game.
Both systems rely on the full-backs providing width and getting forward as the middle will be congested given the number of midfielders involved, while there is a similar range of creativity and physicality between the two sets of players as well.
Whether it's substitutions or tinkering of tactics during the game, whoever gets the better of this particular mental scrap could have a major influence on the result.
Ibrahimovic vs Bonucci
If Ibrahimovic starts, which MilanNews report is expected to be the case, he will not only look to drop deep and try to pull the strings in a more withdrawn role, but he'll also be a focal point and target in the box.
He may try and choose to target Daniele Rugani instead where possible, but his path will cross with Leonardo Bonucci at times, and these two physical players will undoubtedly enjoy a great tussle.
It will come down to the cleverness and cunning of the Swede as neither are the quickest, and he has to give us something to feed off up top as he isn't going to offer constant movement and pace like Ante Rebic and so he'll be desperate to ensure he isn't left isolated and cut off from the midfield.
Bennacer & Kessie vs Rabiot & Matuidi
Our midfield duo have been brilliant since the restart and their partnership in front of the defence is undoubtedly getting better and better each week.
As we saw in the wins over Roma and Lazio, their ability to gain a foothold in midfield allows us to control proceedings to an extent, and so it's going to be imperative that we come out on top in that department.
Rodrigo Bentancur will provide the creativity from deeper, but it's Adrien Rabiot and Blaise Matuidi who will no doubt break forward and try to support in attack, and it's down to Ismael Bennacer and Franck Kessie to shut that threat down and cutting the supply chain off to the forwards as they've done so effectively in recent weeks.
Hernandez vs Cuadrado
We saw a much-improved attacking display from Theo Hernandez at Lazio as he could, and perhaps should, have had a couple of goals to his name.
His explosive runs forward from left-back looking to find the gap between Juan Cuadrado and Rugani are going to be potentially crucial, while he can't afford to allow the Colombian to pin him back all game.
Andrea Conti and Danilo will offer width and an option in attack too, but it wouldn't be a surprise if they tucked inside defensively and it became a battle between Hernandez and Cuadrado in terms of who the more impactful full-back will be on the night.
Kjaer & Conti vs Cristiano Ronaldo
With Gonzalo Higuain expected to start up front, that could see Ronaldo drift in from the left and so the combined efforts of Simon Kjaer and Conti will be vital in keeping him quiet.
Having already scored 29 goals and provided seven assists in 38 appearances so far this season, it's certainly easier said than done trying to ensure he doesn't have an influence on the game.
Nevertheless, between Conti's pace to recover when necessary and close up space to Kjaer's physicality and reading of the game, it's hoped that they can keep things tight down that flank and force the Portuguese superstar away from goal and in less threatening positions on the pitch to limit his impact.