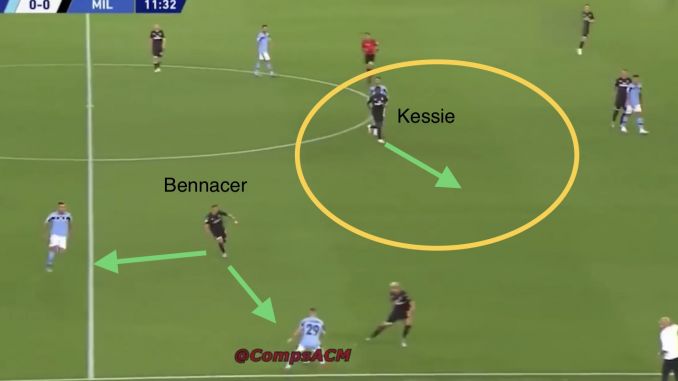 Without doubt one of the biggest positives since the restart for Milan has been the form and partnership between midfield pair Ismael Bennacer and Franck Kessie.
Stefano Pioli has now settled on his preferred 4-2-3-1 system, and it is producing impressive results both in terms of our performances and results as evidenced with wins over Roma and Lazio since the season got back underway.
From Alessio Romagnoli and Simon Kjaer building a partnership of their own at the back to Ante Rebic's fine form and top performances across the board, it's easy to lose sight of just how important Kessie and Bennacer have been.
In fairness, their performances have been acknowledged and praised by many, and the analysis below hopefully details why they've been so influential….
Pressing, defensive work…
While the intensity of our press and work-rate up front is dependant on if Rebic or Zlatan Ibrahimovic plays, the second press in midfield has been equally as impressive and important.
Perhaps more so against Lazio as we allowed them to have possession in their half before piling on the pressure as the ball moved into midfield and their attack, we constantly cut off supply channels and nullified their threat.
As seen in these images below, a big reason behind that was the work-rate and tactical intelligence displayed by Bennacer and Kessie.
The first example shows Bennacer closing in on the ball as the first line of the press, cutting off the pass forward and forcing Manuel Lazzari to go back, while Kessie is making his way across to occupy the space that his teammate has just vacated. Thus it squeezes Lazio into a tight spot and forces them to either go long and risk losing possession or further backwards towards their own goal.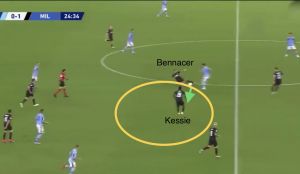 The third image is quite similar in that it's Bennacer who produces the interception, and Kessie is tucked in next to him on hand to pick up possession and drive forward.
However, it's the second image which is arguably the most impressive as it sums up our tactics in the first half against Lazio perfectly. While Stefan Radu has time and space on the ball as we stand off and maintain an organised and structured shape in defence with Ibrahimovic not even in the frame, it's Bennacer and Kessie who step up against their respective men directly and give the home side nowhere to go from that point.
These are just a couple of examples of these scenarios being played out, and it hopefully displays how important the pair were off the ball in winning possession back and also providing a protective shield in front of the defence.
Time, space to pick out pass and move on to attack…
While the above details their impact off the ball, equally as important and impressive is how they performed in possession as shown in the images below.
The pair did brilliantly to provide an option for one another, stretching play and finding big pockets of space in midfield to always provide an out-ball. That in turn gives the recipient time and space to turn and drive forward and get the ball into Lazio's half quickly, with the transition from defence to attack happening in a matter of seconds.
It happened time and time again, with Kessie and Bennacer swapping roles and looking comfortable, and it's hoped that they can continue to show this balanced and vital contribution to our play both in defence and attack.
While it's still early days and the test against Juventus on Tuesday night will perhaps tell us a lot more in itself, there are arguably the makings of a really dominant and influential midfield duo with these two in the heart of the side.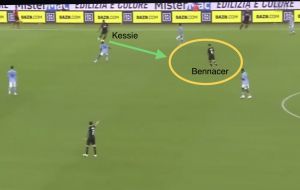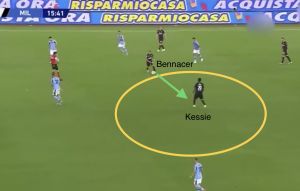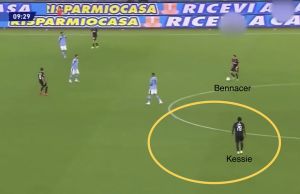 Franck Kessié vs Lazio [A]pic.twitter.com/ucbF3omEHT

— ACM Comps (@CompsACM) July 5, 2020
@IsmaelBennacer vs Lazio [A]pic.twitter.com/uhBwaIYcAz

— ACM Comps (@CompsACM) July 5, 2020