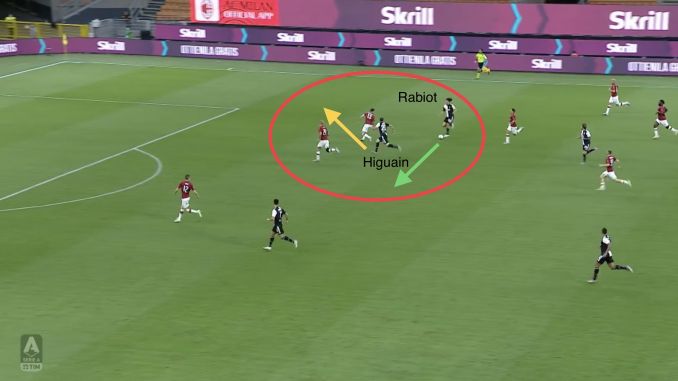 Milan secured a thrilling 4-2 win over Juventus on Tuesday night and there were some intriguing tactical points which had a decisive influence on the outcome.
To their credit, the Bianconeri were on top for the opening 60 minutes of the game. Whether it was picking holes in our defence and finding pockets of space to be a threat in the first half, to their two well-taken goals, they were the better side.
However, things changed entirely after Zlatan Ibrahimovic found the back of the net from the penalty spot, as we scored four goals in 18 minutes to complete a sensational comeback and secured all three points.
Here are some of the positive and not so positive points from the encounter…
Defensive troubles
While Alessio Romagnoli and Simon Kjaer have been forming a solid partnership since the restart, they had their troubles in midweek against Juve.
As seen in the first image below, there was a breakdown in communication and organisation as both went with Gonzalo Higuain's run across play which in turn opened up the space for Adrien Rabiot to cut inside onto his left foot and produce a superb strike.
In this instance, it was arguably Kjaer's duty to follow Higuain's run as he isn't on the blindside, while Romagnoli should have followed Rabiot and cut off his progress towards goal if possible.
The second goal was ultimately just a howler from the pair as they ended up taking each other out and in turn allowed Cristiano Ronaldo to go clear and find a finish. It suggests that the pair still have work to do in terms of their communication and understanding on the pitch to avoid these scenarios being repeated.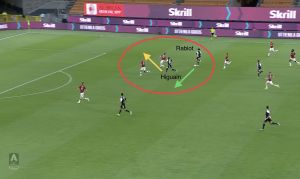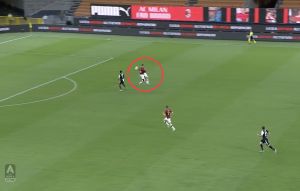 Triangle offense-style success
While it was tempting to drop a 'Last Dance' related joke here, we'll opt against doing so. Nevertheless, there have been a number of instances where Milan have seemingly adopted a similar strategy both on and off the ball.
The two images below are examples of that, with the first showing the build up to Franck Kessie's goal. It's worth noting that there was impressive build-up play from the Rossoneri prior to that as we shifted Juventus side to side in a bid to find space in the final third, and it eventually opened up.
Kessie played a short pass to Hakan Calhanoglu which drew Juan Cuadrado out and gave Zlatan Ibrahimovic a bit more space and time, and his lay off was collected by Kessie who had continued his run and wasn't tracked, before the Ivorian showed great composure and quality to find the back of the net.
On the second occasion, Milan press high up the pitch and force an error out of Alex Sandro which eventually leads to Ante Rebic's goal, with Rebic himself, Rafael Leao and Ismael Bennacer closing down as a three in a triangle formation with Sandro having no option but to go long, but rather bizarrely, across goal rather than trying to go down the pitch.
It's an interesting aspect of our attack, and something to keep an eye on as it could be a reoccurring theme moving forward.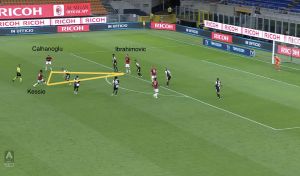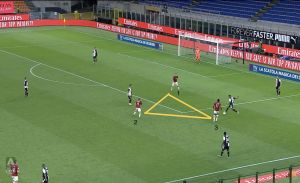 Rebic zone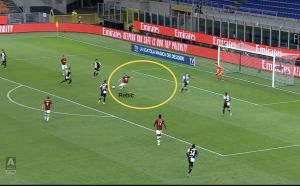 As we've seen on countless occasions already this season, Rebic has a wonderful habit of finding a pocket of space in the box and produces goals time and time again since January.
He was at it again on Tuesday, as seen in the image above, where he finds time to apply the finishing touch towards the left side of the box having withdrawn himself from the defenders to latch onto the assist.
The 'Rebic zone' is becoming a genuine entity this year, and despite it being highlighted in previous blogs and podcasts, and undoubtedly opposing sides have identified it too in an attempt to nullify his goalscoring threat, the Croatian international is hard to stop it seems and is much more clinical as he enjoys a fine run of form.