While Zlatan Ibrahimovic has now gone three games without a goal, the stalwart is still providing Milan with a crucial contribution which is helping us maintain our brilliant run of form.
The 38-year-old missed the restart after suffering a calf injury in training, and so that has undoubtedly had a negative impact on his fitness levels in recent weeks as he had to play catch up to get on par with his teammates.
His initial involvement was limited, but gradually his workload has increased and Stefano Pioli has steadily started to lean on him more and more as the games have passed.
Ibrahimovic scored in back-to-back outings against Lazio and Juventus, but he has since drawn a blank against Napoli, Parma and Bologna. So, is it a cause for concern?
Important role aside from goals
In an ideal world, the Swede would be scoring consistently as that is ultimately his primary purpose in the side. However, failing that, he must still have an influence on games and our attacking play and he is certainly doing that.
At times, he can be frustrating. Whether it's a sloppy, misplaced pass, a speculative effort at goal or slowing our attack down to a walking pace, there are elements of his game which don't quite suit or match the players around him and it leads to a break down.
That said, his presence up top in leading the line certainly has its positives too. Ibrahimovic has often dropped deeper in the last few games to get more involved in our build-up play and pull the strings.
He's able to do that because of the fresh legs around him, with the likes of Ante Rebic, Hakan Calhanoglu and Alexis Saelemaekers doing the running for him and providing movement for him to pick out a pass.
That has had a direct impact in itself as it has led to a few of our goals, but what the veteran also does brilliantly is he attracts attention and focus from the opposition defence, which in turn opens up space and opportunities for his teammates.
As seen in the two images below taken from the win over Bologna, on two occasions Ibrahimovic was directly involved in goals.
The first was a great step-over and Saelemaekers was on hand to finish the chance behind him. The second saw him drag a Bologna defender out to the edge of the box, thus creating space and time for Rebic in a one-on-one situation with his marker where he swivelled and thumped his effort into the back of the net.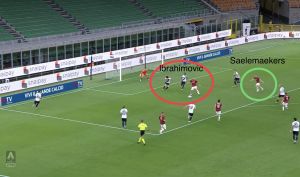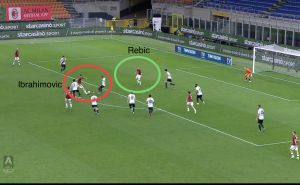 On both occasions, Ibrahimovic has dragged two defenders towards him, and his teammates have directly benefited from that.
MilanNews noted after the game this weekend that our talismanic frontman was frustrated after being replaced. There's absolutely nothing wrong with that as it shows that he still has the fire and hunger inside him, and that is a lesson for the players around him too.
Nevertheless, he shouldn't be too disappointed if the goals aren't going in for him right now, because he's still having a direct impact in our superb run of form since the restart simply with his presence and clever attacking play.