With over 450 appearances to his name and 10 major trophies won over a 13-year span at Milan as a player, Gennaro Gattuso will forever be an icon at the club.
Appointed coach on December 10, 2017, he has undoubtedly overseen progress as we've steadily moved into the battle for a top four finish to end our long wait for Champions League football.
Gattuso has a 48 percent winning rate in 79 games at the helm, and up until a month ago, the Rossoneri appeared on course to achieve their objectives this season.
However, a slump in form which has seen us pick up one win, two draws and suffer four defeats in our last seven games has resulted in us crashing out of the Coppa Italia and seemingly leaving ourselves on the verge of blowing our best shot at Champions League qualification in years.
Ahead of the crunch trip to Torino on Sunday, Milan now sit level on points with Atalanta, while Roma are just a point adrift and our opponents this weekend can move level on 56 points with a win.
It's arguably not an over-exaggeration to suggest that our season could be about to collapse in front of us, as while the results have been nowhere good enough, the performances that we've seen in recent weeks have been soul destroying.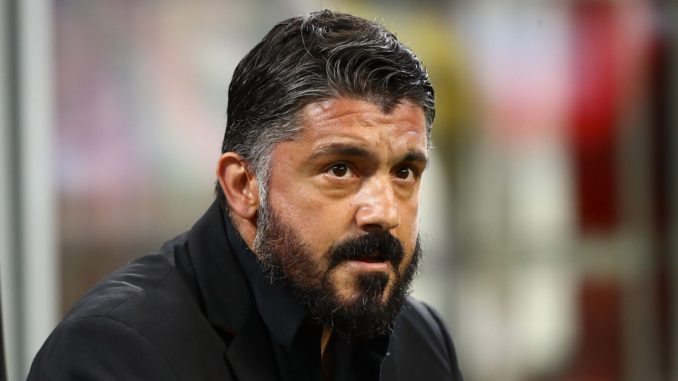 Certain individuals are undoubtedly letting Gattuso down. Between them, Suso and Hakan Calhanoglu have six goals and 14 assists in 61 Serie A games.
Mateo Musacchio continues to show weaknesses, Franck Kessie has seemingly regressed since joining us from Atalanta in 2017 and several others are simply not up to the standard of this club.
Nevertheless, the issues start with the man in charge as there has been nothing in recent games to suggest that we have any sort of game plan, cohesion, direction or purpose in our attacking play. Frankly, the players look lost as soon as they reach the half-way line, and it's hard to understand what they do in training all week.
Being unfortunate or inconsistent are mere excuses to paper over the cracks at this point, and it's become a very real concern that we will end up surrendering fourth place in the next five games. In truth, it will seemingly take a miracle for us to unlock the solution in our offensive play to figure out how to actually break teams down.
Either way, there is a sense now that Gattuso has taken us as far as his qualities allow him to, and he's simply running out of ideas on how to steer the ship back in the right direction. Whether we qualify for the Champions League or not, it seems inevitable that his tenure is coming to an end at the end of the season.
Providing him with better players could work, as we've seen with Krzysztof Piatek and Lucas Paqueta since they arrived in January. However, the confidence in placing such a huge responsibility and level of trust in Gattuso has gone, and it's hoped that he can bow out in style by finishing fourth and protecting his legacy at Milan.
That way he can leave knowing that he has effectively delivered what he was asked to achieve, and we can give him credit for that and rein in the criticism. Sadly though, the warning signs have been there all season and it seems as though he may well have reached his ceiling.