While the current campaign is on hold, Gianluigi Donnarumma's future is seemingly an ongoing topic of concern for Milan with his contract set to expire in 2021.
As noted by MilanNews, via the paper edition of Tuttosport, it has been stressed that the 21-year-old's desire is to stay, and that isn't the first time that's been suggested.
While that could be a decisive factor in reaching an agreement as ultimately given the quality that he possesses it's crucial we keep him, it won't be the only one as agreeing on personal terms could yet prove to be complicated.
Nevertheless, what isn't in doubt is Donnarumma's impact and influence on the pitch, as he has proven to be decisive for Milan time and time again so far in this campaign.
Game-defining, decisive saves the norm
Going through the highlights of every game so far this season, you'd be hard pressed to find a single outing in which Donnarumma hasn't had a direct influence on the outcome.
More often than not, the game is still in the balance when he steps up, and so that ability to be decisive has undoubtedly contributed directly to our points tally this season and in previous campaigns since the Italian international made his breakthrough.
Whether it's in one-on-one situations where he makes himself big, to keeping out shots from distance, penalties or almost certain tap-ins, Donnarumma has come up with the response for Milan on countless occasions again this year to reinforce just how important he is for us.
As seen in the images below, which don't actually do his saves full justice, he has produced some eye-catching stops over the course of the campaign that have been vital to the end result.
Those who believe that Milan can cope without him and are open to seeing him leave this summer would perhaps argue others are similarly capable of such stops, but there is an air of class and confidence around Donnarumma that offers reassurance to the backline that he'll make the save when needed and has arguably put an element of doubt in the minds of those trying to beat him when put in that situation.
Either way, there is no denying Donnarumma has become one of the top shot-stoppers in Europe, and his importance to Milan has been underlined almost on a weekly basis.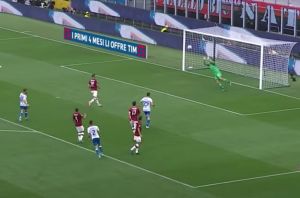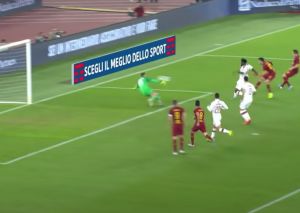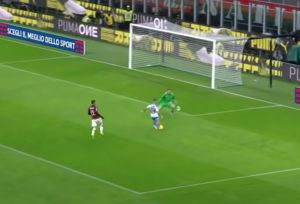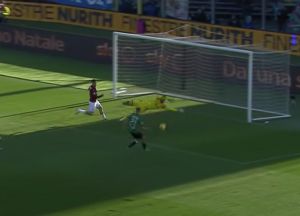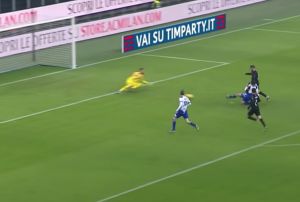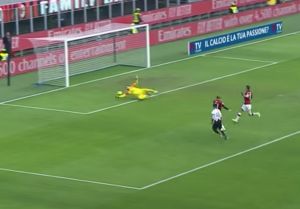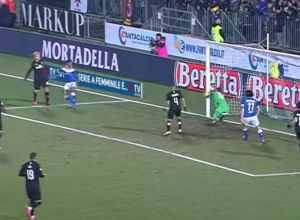 Decision-making still needs work
Donnarumma's distribution out from the back has certainly improved, and he's cut out those glaring mistakes from last season which at times directly led to goals.
However, as with any player, there is still room for him to improve. There have been occasions where after making the initial crucial save, he has merely palmed the shot back into the danger zone which has resulted in the opposition finding the back of the net.
In turn, he needs to improve in terms of pushing the ball out to safety where possible, while he could arguably still get better with his ability to deal with crosses into the box to be increasingly commanding in his own area.
While those are perhaps less important, the more prominent issue this season has been his decision making, specifically on when to rush out from his goal to deal with danger.
This issue stems from a lack of pace in the Milan backline and at times it feels as though Donnarumma is forced to come out as he knows the likes of Alessio Romagnoli or Mateo Musacchio aren't going to be able to make up ground and stick with the attacker.
Whether it's his starting position, his conviction in either coming out quicker or perhaps just a need to stay back and make it difficult for the attacker in a one-on-one situation where he is so effective anyway while allowing his defenders to get back and put pressure on, Donnarumma has to be better.
As seen in the images below he has made some rash decisions this season which have led to two goals while he rescued himself on one occasion by getting back to make the save. If he can work on this and improve, just as he has with his distribution, it's another area where he could excel moving forward.
From what we've seen so far this season in general though, there has to be no doubt over how important it is we keep him. There are many talented goalkeepers out there, but from his attachment to the club as well as having his entire career still ahead of him, it's hoped a deal can be struck this summer to ensure he stays for the foreseeable future.