Of the signings made by Milan in recent transfer windows, Theo Hernandez has been one of the more successful acquisitions.
As noted by FourFourTwo, the Rossoneri are said to have spent €20m to prise him away from Real Madrid last summer, with the 22-year-old signing a five-year contract.
SEE MORE: Analysis: Donnarumma's 2019/20 season so far shows why it's fundamental Milan keep him
The immediate signs were positive in pre-season, as he made an eye-opening debut against Bayern Munich before unfortunately picking up an injury which sidelined him for the rest of the summer and the start of the new Serie A campaign.
That is arguably the nightmare scenario for any player joining a new club, as it would have disrupted his ability to settle in Milan as well as build chemistry with his teammates and particularly his fellow defenders.
Fortunately though, after returning from that setback he has wasted little time in showcasing his quality, although he still has work to do on his all-round game to be regarded as one of the best left-backs in football.
Attacking strengths bring new dynamic
Hernandez has scored six goals and provided three assists in 25 appearances so far this season, bringing a new dynamic to our attack with his tireless work ethic down the left flank to get forward at every possible opportunity.
It's in stark contrast to the restricted and limited impact Ricardo Rodriguez made over the past two seasons, and it has given our attack a new threat which has caused the opposition a lot of problems.
Whether it's his lung-busting runs forward with or without the ball or his delivery into the box or as seen in the images below, his ability to get into dangerous positions inside the area and add a finishing touch, he has been a huge positive in our season thus far.
He's shown desire, mobility, stamina and real quality going forward, and as seen with his goal against Udinese, he can certainly strike a ball too.
As noted in his interview with La Gazzetta dello Sport, Hernandez stressed that he finally feels settled at Milan after a stop-start beginning to his young career thus far, and he has ambitions to grow into a leader for this side and take us back to where we belong.
Time will tell if he can deliver on that, but his decisiveness in the final third has been a real boost for us so far this season.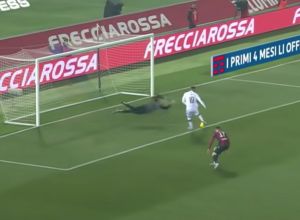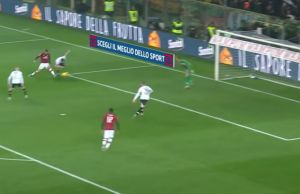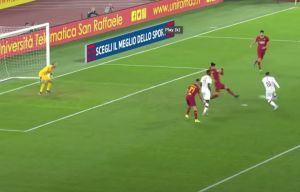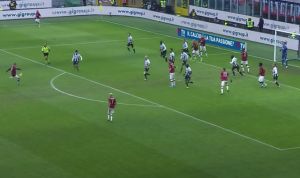 Defensively still too vulnerable
As with any player though, there is still room for improvement and while at times he perhaps needs to pick his head up and find the easier assist rather than take on a shot himself having broken forward, it's his defensive game which needs the most work.
In his defence, it's up to Stefano Pioli and the coaching staff to also strike the right balance down our left flank. If Hernandez is going to be given the licence to get forward and attack at will, the team must be set up to ensure he is covered and there is someone there to track back and avoid leaving us being exposed.
Franck Kessie initially took up that role but did less of it prior to the suspension of the campaign, and so it's something that needs to be looked at to give us a better balance and more solidity.
Nevertheless, as seen in the tweet below, it's not just allowing teams to break down their right side which Hernandez must work on. There have been countless occasions where the gap between him and Alessio Romagnoli has been exploited, while he has an issue with losing his man at the back post when a cross comes in from the right.
On most occasions, Hernandez is aware of the man being there, but by the time the ball is in the box he has been beaten by some clever movement and it has led to easy goals. That positional awareness and concentration is vital as he has to play his part defensively too.
It's great to see the Frenchman deliver in the final third, but it's got to come from a solid base defensively to show that he can produce consistently in both phases of the game for him to establish himself as one of the best in that position in Europe.
In turn, if Milan, Pioli and Hernandez can all work on that aspect of his game, Hernandez will go from strength to strength moving forward and we'll hopefully have a long-term solution at left-back who can become a real pillar of the side moving forward.
Love Theo's attacking play, but defensive concern looking back at some goals.

1) 1v1s. Knows where his man is but loses him when cross comes in

2 + 3) Big gap between him/Romagnoli often exploited

4) Same as 1. Done by late movement in box

All ended in goals. Area to improve. pic.twitter.com/tO7EMWoZVR

— Milan Talk (@MilanTalk1) April 7, 2020